Paul's Selection Pack 2 - Early Blitzes -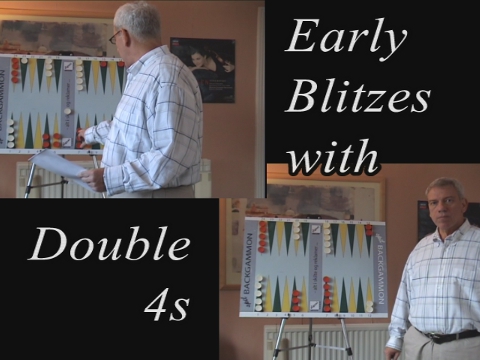 :

Early Blitzes with Double 4s

:

Paul Weaver

:

Theory, Cube action

:

00:17:41

:

:

:

Learning when to double, take and pass in early game blitzes is important and difficult. In the 18 positions in this lecture, Black has obtained a very strong advantage after attacking with double 4s. Familiarity with these 18 reference positions will help you make correct cube decisions when similar situations arise in your games.
:

2011-03-28

:

90 days

:

This pack includes:
1. Early Blitzes with Double 1s
2. Early Blitzes with Double 2s
3. Early Blitzes with Double 3s
4. Early Blitzes with Double 4s
5. Early Blitzes with Double 5s
6. Early Blitzes with Double 6s
Downloads
1. Title:

Early Blitzes with Double 1s
2. Title:

Early Blitzes with Double 2s
3. Title:

Early Blitzes with Double 3s
4. Title:

Early Blitzes with Double 4s
5. Title:

Early Blitzes with Double 5s
6. Title:

Early Blitzes with Double 6s
Tweet
Sponsorships
Partnerships
Special Thanks