Paul's Selection Pack 1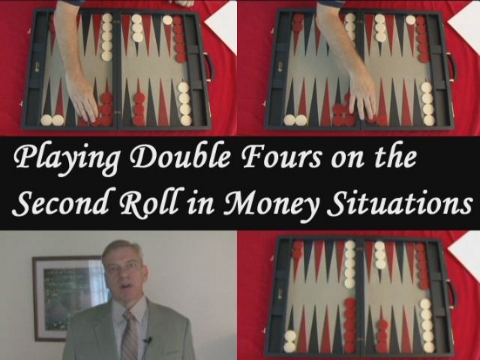 :

Playing Double Fours on the Second Roll in Money Situations

:

Paul Weaver

:

Theory, Checker play

:

00:15:00

:

:

:

Doubles fours on the second roll is always a joker. The most common play is to advance the anchor from the 24pt to the 20pt and also make the 9pt. Double fours is especially powerful when Black attacks. However, there are a few positions in which Black should pass up the hit in favor making the 20pt and 9pt. Understanding how to play 44 on the second roll will be a great help in figuring out how to play 44 on subsequent rolls of the game.
:

2011-01-10

:

90 days

:

This pack includes:
1. The Opening Rolls at Match Scores
2. Playing Double Aces on the Second Roll in Money Situations
3. Playing Double Deuces on the Second Roll in Money Situations
4. Playing Double Threes on the Second Roll in Money Situations
5. Playing Double Fours on the Second Roll in Money Situations
6. Playing Double Fives and Sixes on the Second Roll
Downloads
1. Title:

The Opening Rolls at Match Scores
2. Title:

Playing Double Aces on the Second Roll in Money Situations
3. Title:

Playing Double Deuces on the Second Roll in Money Situations
4. Title:

Playing Double Threes on the Second Roll in Money Situations
5. Title:

Playing Double Fours on the Second Roll in Money Situations
6. Title:

Playing Double Fives and Sixes on the Second Roll
Tweet
Sponsorships
Partnerships
Special Thanks