Paul's Selection Pack 1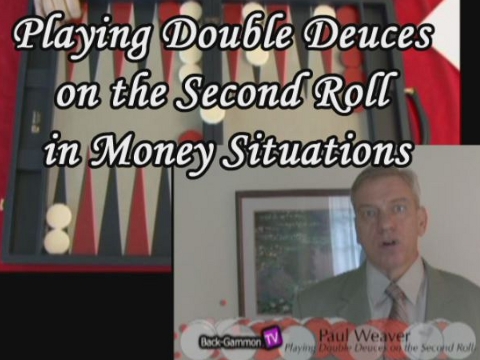 :

Playing Double Deuces on the Second Roll in Money Situations

:

Paul Weaver

:

Theory, Checker play

:

00:15:44

:

:

:

Double deuces on the second roll is always a joker. This lecture explains the reasons that making the 20pt is always wrong for money with 22 on the second roll. After making the 4pt, you will usually make either the 11pt or the 22pt. The pros and cons of making the 11pt versus the 4pt are discussed. When 22 on the second roll hits your opponent's blot and he fans, the resulting cube action in the early position is also discussed.
:

2011-01-10

:

90 days

:

This pack includes:
1. The Opening Rolls at Match Scores
2. Playing Double Aces on the Second Roll in Money Situations
3. Playing Double Deuces on the Second Roll in Money Situations
4. Playing Double Threes on the Second Roll in Money Situations
5. Playing Double Fours on the Second Roll in Money Situations
6. Playing Double Fives and Sixes on the Second Roll
Downloads
1. Title:

The Opening Rolls at Match Scores
2. Title:

Playing Double Aces on the Second Roll in Money Situations
3. Title:

Playing Double Deuces on the Second Roll in Money Situations
4. Title:

Playing Double Threes on the Second Roll in Money Situations
5. Title:

Playing Double Fours on the Second Roll in Money Situations
6. Title:

Playing Double Fives and Sixes on the Second Roll
Tweet
Sponsorships
Partnerships
Special Thanks