Paul's Selection Pack 1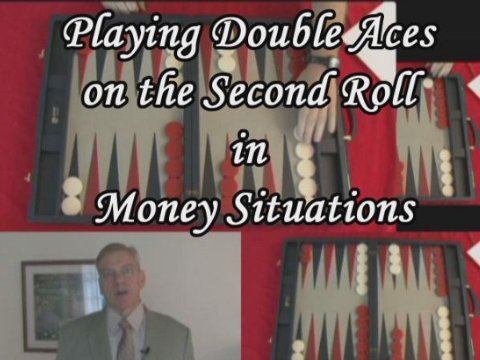 :

Playing Double Aces on the Second Roll in Money Situations

:

Paul Weaver

:

Theory, Checker play

:

00:13:27

:

:

:

Although double aces on the second roll is always a terrific roll, surprisingly enough, it is frequently misplayed even at this early stage of the game. Although making the 5pt and 7pt is usually best, there are some situations where splitting (24/22) is better with the last two aces than making the 7pt and leaving a blot and indirect shots on the 8pt. The backgammon student who learns this concept will be able to apply it in later stages of the game to both double aces and other rolls, as well.
:

2011-01-10

:

90 days

:

This pack includes:
1. The Opening Rolls at Match Scores
2. Playing Double Aces on the Second Roll in Money Situations
3. Playing Double Deuces on the Second Roll in Money Situations
4. Playing Double Threes on the Second Roll in Money Situations
5. Playing Double Fours on the Second Roll in Money Situations
6. Playing Double Fives and Sixes on the Second Roll
Downloads
1. Title:

The Opening Rolls at Match Scores
2. Title:

Playing Double Aces on the Second Roll in Money Situations
3. Title:

Playing Double Deuces on the Second Roll in Money Situations
4. Title:

Playing Double Threes on the Second Roll in Money Situations
5. Title:

Playing Double Fours on the Second Roll in Money Situations
6. Title:

Playing Double Fives and Sixes on the Second Roll
Tweet
Sponsorships
Partnerships
Special Thanks